On Sunday, May 3rd at 8:00 PM ET, the original stars of The Full Monty will bare all, including John Ellison Conlee (Dave Bukatinsky), Jason Danieley (Malcolm MacGregor), André De Shields (Noah "Horse" T. Simmons), Romain Fruge (Ethan Girard), Marcus Neville (Harold Nichols), Patrick Wilson (Jerry Lukowski), and David Yazbek (Music & Lyrics) for Seth Rudetsky and James Wesley's "Stars In The House."
Each episode will air LIVE on the Stars In The House YouTube channel and on starsinthehouse.com with the cast sharing stories and songs with Seth and James. Fans tuning in are just as much a part of the show – they can ask questions in real time, interact with the hosts and casts, and donate to The Actors Fund for the chance to have their names read on air.
Updated: May 3, 2020 Watch the reunion below.
André De Shields and Riki Kane Larimer Honored at The York Theatre Company's 28th Oscar Hammerstein Award Gala 
Check out this week's lineup also featuring The Prom and City of Angels.
On Sunday, May 3rd at 2:00 PM ET, "It's Time To Dance" with the cast of The Prom, including Caitlin Kinnunen (Emma), Beth Leavel (Dee Dee Allen), Brooks Ashmanskas (Barry Glickman), Christopher Sieber (Trent Oliver), and Angie Schworer (Angie).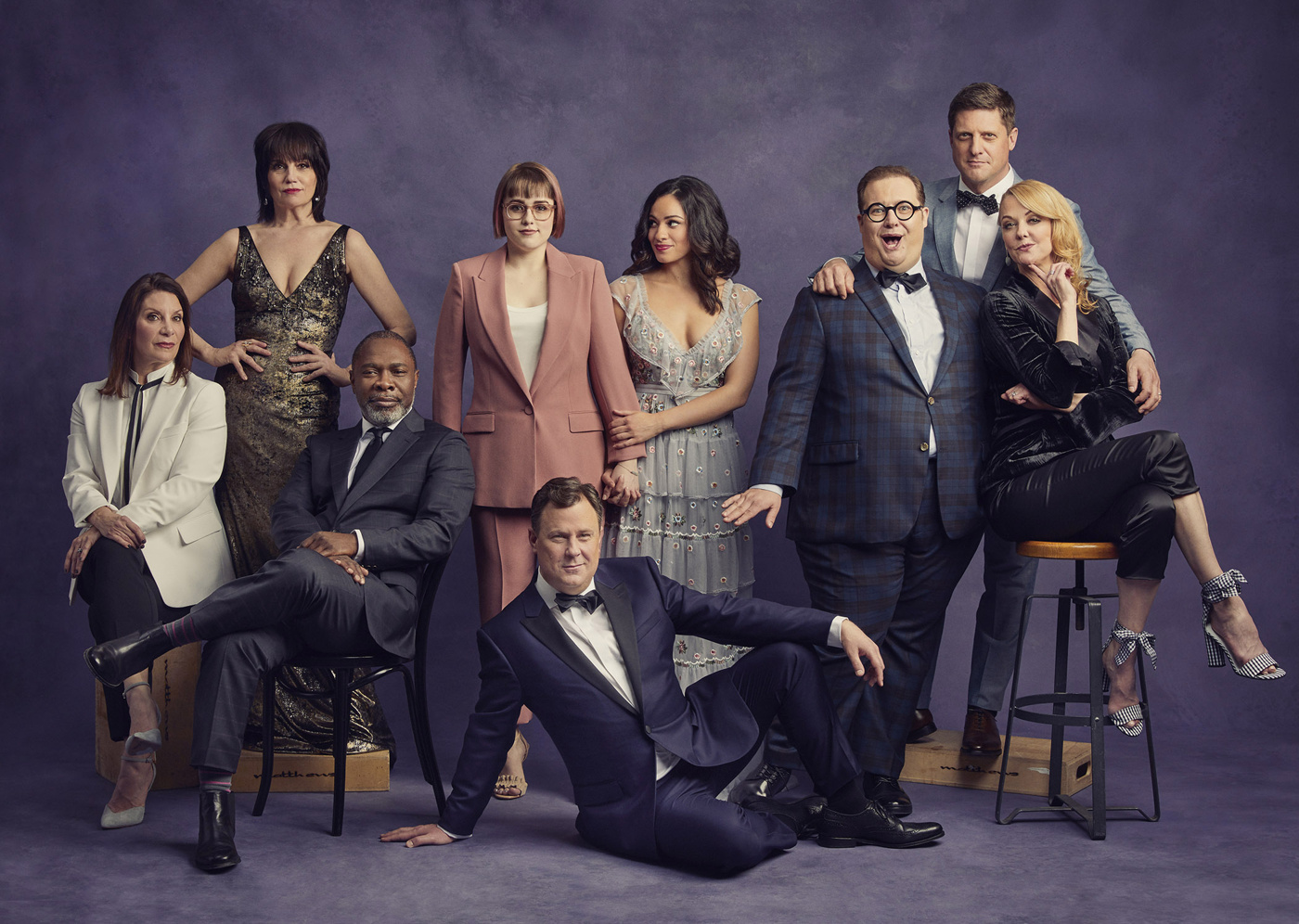 On Monday, May 4th at 2:00 PM ET, the cast of City of Angels takes us back in time, including Gregg Edelman (Stine), Randy Graff (Donna/Oolie), Dee Hoty (Carla Haywood/Alaura Kingsley), Kay McClelland (Gabby/Bobbi), James Naughton (Stone), Rachel York (Avril/Mallory), and David Zippel (Lyricist).
The Prom, The Full Monty and City of Angels join a who's who of Broadway favorites that Seth and James have brought back together to sing, share stories, and raise funds to help entertainment professionals in need during the COVID-19 pandemic; including the iconic original Broadway casts of Spring Awakening, Les Misérables, Urinetown, Spongebob Squarepants: The Broadway Musical, Fun Home, and the 2018 Carousel revival, among others. Seth and James have checked in with current and upcoming Broadway favorites, too, among them Jagged Little Pill, Six, Mrs. Doubtfire, and Caroline, Or Change. Celebrity guests like Jason Alexander, Sean Hayes, Chita Rivera, Kristin Chenoweth, Tina Fey and Jeff Richmond, Jeremy Jordan, Randy Rainbow, Judith Light, Audra McDonald and Will Swenson, Peyton List, Patrick Wilson, Billy Porter and Annette Bening are just some of the stars who have joined since the first show on March 16th. And often Seth and James remind their guests how important it is to keep in touch with loved ones during this social distancing and suddenly a surprise guest will pop up like Jon Hamm, Erik McCormack, John Lithgow, Bernadette Peters, Patti LuPone, Jessie Mueller, Iain Armitage, Rosie O'Donnell and Andrew Lloyd Webber.
"Stars In The House" airs new episodes daily at 2 PM and 8 PM on its YouTube channel and starsinthehouse.com.
Lia Chang is an actor, a multi-media content producer and co-founder of Bev's Girl Films, making films that foster inclusion and diversity on both sides of the camera. Bev's Girl Films' debut short film, Hide and Seek was a top ten film in the Asian American Film Lab's 2015 72 Hour Shootout Filmmaking Competition, and she received a Best Actress nomination. BGF collaborates with and produces multi-media content for artists, actors, designers, theatrical productions, composers,  musicians and corporations. Lia has appeared in the films Wolf, New Jack City, A Kiss Before Dying, King of New York, Big Trouble in Little China, The Last Dragon, Taxman. She stars in and served as Executive Producer for the short independent films Hide and Seek, Balancing Act, Rom-Com Gone Wrong, Belongingness and When the World was Young. She is also the Executive Producer for The Cactus, The Language Lesson, The Writer and Cream and 2 Shugahs.
All text, graphics, articles & photographs: © 2000-2020 Lia Chang Multimedia. All rights reserved. All materials contained on this site are protected by United States copyright law and may not be reproduced, distributed, transmitted, displayed, published or broadcast without the prior written permission of Lia Chang. You may not alter or remove any trademark, copyright or other notice from copies of the content. For permission, please contact Lia at liachangpr@gmail.com