Tony, Grammy and Emmy Winning Hadestown Star André De Shields gave the  commencement speech for the UW-Madison 2021 Bachelor's Degree Graduates. The university held the in-person, graduates-only ceremonies at Camp Randall on May 8. De Shields is currently in rehearsal to star in St. Louis Shakespeare Festival's King Lear, June 2 – June 27. Due to guidelines limiting travel during the pandemic, De Shields' speech was livestreamed and he is accompanied by Larry Spivack on the piano. Watch below.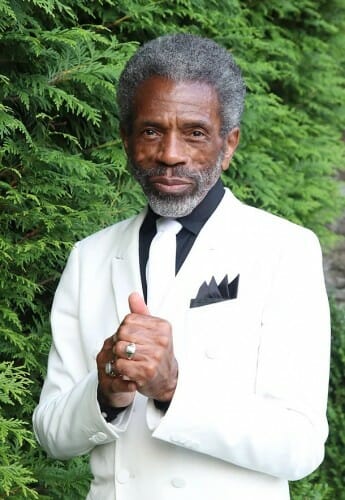 The multi-talented André De Shields has it all — a Tony, a Grammy, an Obie, an Emmy, and (most important of all) a diploma from Wisconsin's flagship university. His participation in commencement will coincide with another milestone this spring — the Class of 1970, of which De Shields is a member, will officially join the Wisconsin Alumni Association's Half Century Club.
Chancellor Rebecca Blank praised the selection of De Shields, calling him "a man of many talents and exactly the right person for this moment."
Commencement speakers for the undergraduate ceremony are chosen by the senior class officers and recommended to the chancellor for final approval.
"André is a spectacular, proud UW–Madison alum with a riveting story and distinguished career," says Senior Class President Alec Bukowiec. "As an actor, director, choreographer, and Tony Award winner, he will provide the spark graduates need to hear after this last year has left us burned out. Moreover, André's story of overcoming social justice hurdles and resilience in his career will provide great perspective for graduates. I cannot wait to hear about his story, advice, and how his time at UW helped mold his resilience, grit, and career."
When the pandemic hit last year, De Shields was playing to packed houses on Broadway as the Greek god Hermes in "Hadestown," a musical based on the Greek myth about Orpheus in the underworld. The production won the 2019 Tony Award for Best Musical, and De Shields won the Tony Award for Featured Actor in a Musical. He also won Drama Desk and Outer Critics Circle awards for the role, and the cast won a Grammy for Best Musical Theater Album.
De Shields has never been more in demand. In addition to his stage work, he has reached new audiences with a starring role in this year's "Ratatouille: The TikTok Musical" and a splashy song-and-dance number in the 2019 Netflix film "John Mulaney & the Sack Lunch Bunch."
Raised in Baltimore, De Shields earned a bachelor's degree in English literature from UW–Madison in 1970. He appeared in many stage productions during his time in Madison, both on campus and in the community. By the time he graduated, he already was a working actor — he missed his commencement ceremony because he was appearing in a Chicago production of "Hair." In 1991, De Shields earned a master's degree in African American Studies from New York University.
André De Shields is the triple crown winner of the 2019 awards season, having won the Outer Critics Circle, Drama Desk, and Tony Awards for Best Featured Actor in a Musical for his critically acclaimed performance as Hermes in Hadestown. The Actors' Equity Foundation followed suit with the Richard Seff Award, honoring veteran stage actors' best supporting performances of the year. In 2020, Mr. De Shields received the 2020 Grammy Award for Musical Theater Album for Hadestown, the 2020 AUDELCO for Lifetime Achievement, an honorary Doctor of Arts Degree from Boston Conservatory at Berklee and the 2020 Red Bull Theater Matador Award for Excellence in Classical Theater. In 2019, he received the 2019 Project1Voice Lifetime Achievement Award, the 2019 SAGE Joyce Warshow Lifetime Achievement Award, The York Theatre Company's 2019 Oscar Hammerstein Award for Lifetime Achievement in Musical Theatre, and was inducted into the Theater Hall of Fame. He received the Key to the City of Baltimore from Mayor Bernard C. "Jack" Young in August, 2019. Prior to his Tony Award win, Mr. De Shields was best known for his show-stopping performances in four legendary Broadway productions: The Wiz, Ain't Misbehavin' (Emmy Award), Play On! (Tony Nomination), and The Full Monty (Tony Nomination). In a career spanning fifty one years, he has distinguished himself as an unparalleled actor, director, and educator, receiving in 2018 the 8th Annual Off Broadway Alliance Legend Award, and the 33rd Annual Bob Harrington Life Achievement Bistro Award. Among his other accolades are the 2009 National Black Theatre Festival's Living Legend Award and the 2007 Village Voice Obie Award for Sustained Excellence of Performance. His film and TV roles include Dale Rustin on NBC's "New Amsterdam," Anton Ego in Ratatouille: The TikTok Tok Musical, the Algebra Tutor in "John Mulaney & The Sack Lunch Bunch"  on Netflix, Chubby in "Katy Keene" on the CW, Wyndham on "Almost Family." He can be heard on the podcasts Live From Mount Olympus as Hermes and One Speckled Hen. He can next be seen as Gavin Plimsoll in Charles Busch's  new film, The Sixth Reel. De Shields is a proud member of AEA, SAG-AFTRA, and SDC. andredeshields.com
Special thanks to Michael D'Angora and Tom D'Angora who shot, edited and produced the Commencement Speech video.
André De Shields, Brian Anthony Williams, Allen Gilmore, J. Samuel Davis, Nicole King, Rayme Cornell, Jacqueline Thompson, Daniel José Molina, Leland Fowler and More Set for Carl Cofield Helmed KING LEAR at The St. Louis Shakespeare Festival in Forest Park, June 2-27 
Lia Chang is an actor, a multi-media content producer and co-founder of Bev's Girl Films, making films that foster inclusion and diversity on both sides of the camera. Bev's Girl Films' debut short film, Hide and Seek was a top ten film in the Asian American Film Lab's 2015 72 Hour Shootout Filmmaking Competition, and she received a Best Actress nomination. BGF collaborates with and produces multi-media content for artists, actors, designers, theatrical productions, composers,  musicians and corporations. Lia has appeared in the filmsWolf, New Jack City, A Kiss Before Dying, King of New York, Big Trouble in Little China, The Last Dragon, Taxman. She stars in and served as Executive Producer for the short independent films Hide and Seek, Balancing Act, Rom-Com Gone Wrong, Belongingness and When the World was Young.  
All text, graphics, articles & photographs: © 2000-2020 Lia Chang Multimedia. All rights reserved. All materials contained on this site are protected by United States copyright law and may not be reproduced, distributed, transmitted, displayed, published or broadcast without the prior written permission of Lia Chang. You may not alter or remove any trademark, copyright or other notice from copies of the content. For permission, please contact Lia at liachangpr@gmail.com .