Congrats to Lucille Lortel nominee James Seol on his 2020 Equity Jeff Awards  nomination for Performer in a Supporting Role – Play for his role as Wen Chang in Steppenwolf Theatre Company's Chicago premiere of Lauren Yee's THE GREAT LEAP. Directed by Jesca Prudencio, the play also received nods for Lighting Design- Large for Keith Parham and Original Music in a Play for Pornchanok Kanchanabanca.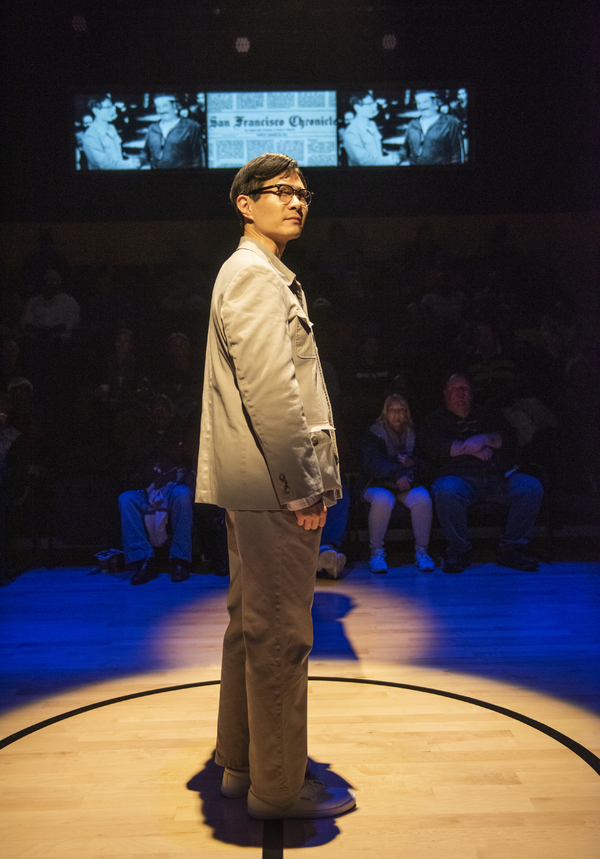 Chatting with VIETGONE Star James Seol
Set in 1989, The Great Leap tells the story of Manford Lum, a local star of the sidewalk basketball courts of San Francisco's Chinatown who strongarms his way onto an American college team travelling to Beijing for a "friendship" game. Set amidst the friction of the post-Cultural Revolution era, The Great Leap keeps tensions high right up to the final buzzer.
The cast features Glenn Obrero (Manford), Deanna Myers (Connie), Keith Kupferer (Saul) and James Seol (Wen Chang).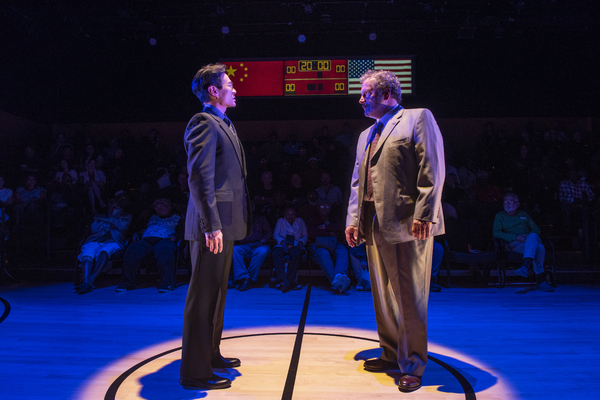 When an American basketball team travels to Beijing amidst tensions in the late 80s, past relationships collide with present day revelations. Witty and weighty, this Chicago premiere explores cultural barriers, political risks and personal sacrifice.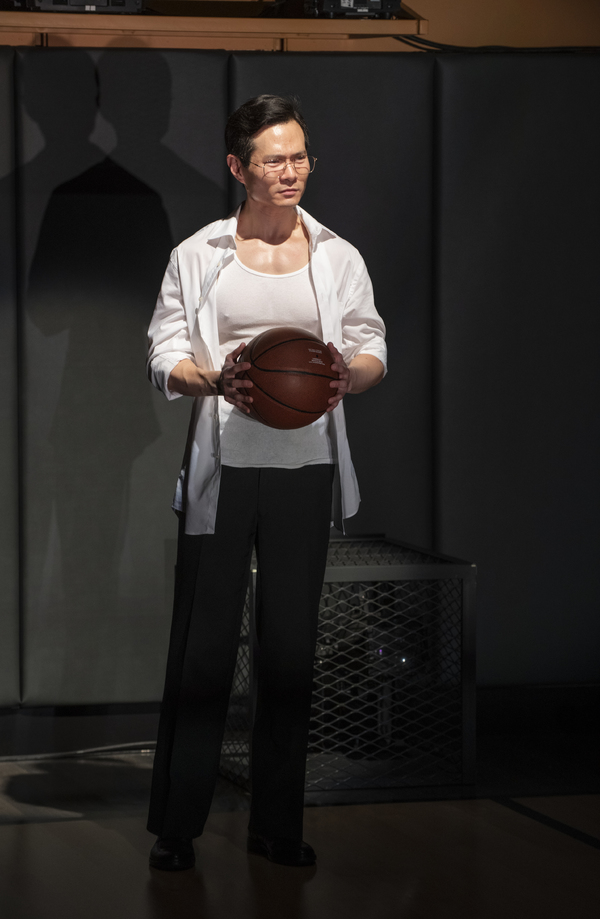 James Seol's Off-Broadway credits include: Off-Broadway: [Veil Widow Conspiracy], Henry VI (NAATCO); American Morning (Prospect Theater Company); KPOP (Lucille Lortel Nomination; Ars Nova/Ma-Yi/Woodshed Collective); Small Mouth Sounds (Ars Nova). Broadway: A Naked Girl on the Appian Way (Roundabout Theatre Company). Regional: Vietgone, The Orphan of Zhao (American Conservatory Theatre); The Four Immigrants, Tokyo Fish Story (TheatreWorks Silicon Valley); Thoroughly Modern Millie (Goodspeed Musicals and Paper Mill Playhouse); Zombie: the American (Woolly Mammoth); Hamlet (Hartford Stage); Timon of Athens (Shakespeare Theatre Company). TV: Living with Yourself (Netflix). He is a proud graduate of Juilliard and the University of Virginia.
The 52nd Annual Equity Jeff Awards for theater excellence will be presented in an online program on Monday, November 9, 2020 at 7:00PM. The nominees include 142 theater artists across 30 artistic and technical categories.
The traditional Equity season runs August 1st through July 31st however, this year, it ended March 13th due to the COVID-19 pandemic. Over the course of the 2019-2020 season, Jeff Awards members attended the openings of 78 productions. From these, 64 productions became "Jeff Recommended." With two productions having runs so short (due to the pandemic shutdown), a total of 62 productions became eligible for 2020 award nominations.
This year, the work of 28 Equity theater companies is showcased with 37 productions receiving one or more nominations. Musicals led the nominations with An American in Paris (12) and Duke Ellington's Sophisticated Ladies (8). Five productions tied with seven nominations including The Boys in the Band, Bug, Grey House, King Hedley II, and The Color Purple. Among theater companies, Drury Lane Productions captured the most nominations with 22, followed by Paramount Theatre (13), Porchlight Music Theatre, Court Theatre and Steppenwolf Theatre Company (all with 11), TimeLine Theatre (10), and eight nominations each for A Red Orchid Theatre, Windy City Playhouse and Writers Theatre.
The virtual awards ceremony will be presented on November 9th to recognize theater excellence over the past Equity season, announce recipients and honor the dedicated theater companies so significantly impacted during these challenging times. Details on accessing the free online program will be available in late October.
Click here for all the nominees.
Alex Sanchez Receives 7th Equity Jeff Award Nomination for Best Choreography for Marriott Theatre's Production of SOMETHING ROTTEN!
Ali Ewoldt, Ann Harada, Josh Dela Cruz, Jaygee Macapugay, Jason Ma, Kendyl Ito, James Seol, Vishal Vaidya and More in Rehearsal for National Asian Artists Project's Concert of Rodgers & Hammerstein's CINDERELLA
James Seol, Glenn Obrero, Keith Kupferer and Deanna Myers in Steppenwolf's THE GREAT LEAP by Lauren Yee through October 20
Edward Chin-Lyn, Kimiye Corwin, Bruce McKenzie, David Shih, James Seol, Karoline Xu, and Aaron Yoo Set for NAATCO's World Premiere of Gordon  Dahlquist's [VEIL WIDOW CONSPIRACY], June 8 – July 6 
KPOP's James Seol, Ashley Park, Jason Tam, Vanessa Kai Among 9 2018 Lucille Lortel Nods, including Outstanding Musical 
James Seol, Jenelle Chu, Stephen Hu, Cindy Im, and Jomar Tagatac Set for Qui Nguyen's Irreverent Road-trip Comedy, VIETGONE at A.C.T.'s The Strand, 
Partying with the cast of NAATCO's HENRY VI; Performances through September 8
Lia Chang is an actor, a multi-media content producer and co-founder of Bev's Girl Films, making films that foster inclusion and diversity on both sides of the camera. Bev's Girl Films' debut short film, Hide and Seek was a top ten film in the Asian American Film Lab's 2015 72 Hour Shootout Filmmaking Competition, and she received a Best Actress nomination. BGF collaborates with and produces multi-media content for artists, actors, designers, theatrical productions, composers, musicians and corporations. Lia has appeared in the films Wolf, New Jack City, A Kiss Before Dying, King of New York, Big Trouble in Little China, The Last Dragon, Taxman. She stars in and served as Executive Producer for the short independent films Hide and Seek, Balancing Act, Rom-Com Gone Wrong, Belongingness and When the World was Young. She is also the Executive Producer for The Cactus, The Language Lesson, The Writer and Cream and 2 Shugahs.
All text, graphics, articles & photographs: © 2000-2020 Lia Chang Multimedia. All rights reserved. All materials contained on this site are protected by United States copyright law and may not be reproduced, distributed, transmitted, displayed, published or broadcast without the prior written permission of Lia Chang. You may not alter or remove any trademark, copyright or other notice from copies of the content. For permission, please contact Lia at liachangpr@gmail.com