The 2020 Pulitzer Prize winners in 15 Journalism and seven Book, Drama and Music categories were announced via video stream at Pulitzer.org on Monday, May 4 by Pulitzer Administrator Dana Canedy. A Special Citation was also awarded.
Playwrights Horizons' production of Michael R. Jackson's A Strange Loop has won the 2020 Pulitzer Prize for Drama.
Michael R. Jackson's blistering, momentous new musical follows a young artist at war with a host of demons — not least of which, the punishing thoughts in his own head — in an attempt to capture and understand his own strange loop. In A Strange Loop, Usher is a black, queer writer, working a day job he hates while writing his original musical: a piece about a black, queer writer, working a day job he hates while writing his original musical.
This year's Pulitzer Prize for Drama finalists included: David Henry Hwang and Jeanine Tesori's Soft Power and Will Arbery's Heroes of the Fourth Turning.
Soft Power is an exploration of America's current place in the world, told through an East-West musical from China's point of view, in which a theater producer from Shanghai forges a powerful bond with Hillary Clinton. Soft Power is a fever dream of modern American politics amidst global conversations, asking us all-why do we love democracy? And should we?
David Henry Hwang is now a three-time Finalist for the Pulitzer Prize for Drama for M. Butterfly (1989), Yellow Face (2008) and Soft Power (2020). Jeanine Tesori was named Pulitzer Prize for Drama finalist twice for Fun Home (2014) and Soft Power (2020).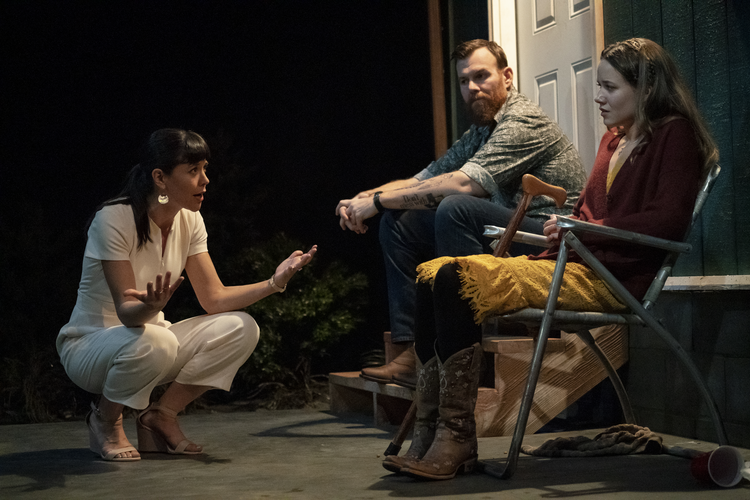 On a chilly night in the middle of America, Will Arbery's haunting play offers grace and disarming clarity, speaking to the heart of a country at war with itself. In Heroes of the Fourth Turning, it's nearing midnight in Wyoming, where four young conservatives have gathered at a backyard after-party. They've returned home to toast their mentor Gina, newly inducted as president of a tiny Catholic college. But as their reunion spirals into spiritual chaos and clashing generational politics, it becomes less a celebration than a vicious fight to be understood.
The 2020 Prize winners are:
Journalism
Breaking News Reporting
Staff of The Courier-Journal, Louisville, Ky.
For its rapid coverage of hundreds of last-minute pardons by Kentucky's governor, showing how the process was marked by opacity, racial disparities and violations of legal norms. (Moved by the jury from Local Reporting, where it was originally entered.)
Investigative Reporting
Brian M. Rosenthal of The New York Times
For an exposé of New York City's taxi industry that showed how lenders profited from predatory loans that shattered the lives of vulnerable drivers, reporting that ultimately led to state and federal investigations and sweeping reforms.
Explanatory Reporting
Staff of The Washington Post
For a groundbreaking series that showed with scientific clarity the dire effects of extreme temperatures on the planet.
Local Reporting
Staff of The Baltimore Sun
For illuminating, impactful reporting on a lucrative, undisclosed financial relationship between the city's mayor and the public hospital system she helped to oversee.
National Reporting
T. Christian Miller, Megan Rose and Robert Faturechi of ProPublica
For their investigation into America's 7th Fleet after a series of deadly naval accidents in the Pacific.
Dominic Gates, Steve Miletich, Mike Baker and Lewis Kamb of The Seattle Times
For groundbreaking stories that exposed design flaws in the Boeing 737 MAX that led to two deadly crashes and revealed failures in government oversight.
International Reporting
Staff of The New York Times
For a set of enthralling stories, reported at great risk, exposing the predations of Vladimir Putin's regime.
Feature Writing
Ben Taub of The New Yorker
For a devastating account of a man who was kidnapped, tortured and deprived of his liberty for more than a decade at the Guantanamo Bay detention facility, blending on-the-ground reporting and lyrical prose to offer a nuanced perspective on America's wider war on terror. (Moved into contention by the Board.)
Commentary
Nikole Hannah-Jones of The New York Times
For a sweeping, deeply reported and personal essay for the ground-breaking 1619 Project, which seeks to place the enslavement of Africans at the center of America's story, prompting public conversation about the nation's founding and evolution.
Criticism
Christopher Knight of the Los Angeles Times
For work demonstrating extraordinary community service by a critic, applying his expertise and enterprise to critique a proposed overhaul of the L.A. County Museum of Art and its effect on the institution's mission.
Editorial Writing
Jeffery Gerritt of the Palestine (Tx.) Herald Press
For editorials that exposed how pre-trial inmates died horrific deaths in a small Texas county jail—reflecting a rising trend across the state—and courageously took on the local sheriff and judicial establishment, which tried to cover up these needless tragedies.
Editorial Cartooning
Barry Blitt, contributor, The New Yorker
For work that skewers the personalities and policies emanating from the Trump White House with deceptively sweet watercolor style and seemingly gentle caricatures. (Moved into contention by the Board.)
Breaking News Photography
Photography Staff of Reuters
For wide-ranging and illuminating photographs of Hong Kong as citizens protested infringement of their civil liberties and defended the region's autonomy by the Chinese government.
Feature Photography
Channi Anand, Mukhtar Khan and Dar Yasin of Associated Press
For striking images of life in the contested territory of Kashmir as India revoked its independence, executed through a communications blackout.
Audio Reporting
Staff of This American Life with Molly O'Toole of the Los Angeles Times and Emily Green, freelancer, Vice News
For "The Out Crowd," revelatory, intimate journalism that illuminates the personal impact of the Trump Administration's "Remain in Mexico" policy.
Public Service
Anchorage Daily News with contributions from ProPublica
For a riveting series that revealed a third of Alaska's villages had no police protection, took authorities to task for decades of neglect, and spurred an influx of money and legislative changes.
Letters, Drama and Music
Drama
A Strange Loop, by Michael R. Jackson
A metafictional musical that tracks the creative process of an artist transforming issues of identity, race, and sexuality that once pushed him to the margins of the cultural mainstream into a meditation on universal human fears and insecurities.
History
Sweet Taste of Liberty: A True Story of Slavery and Restitution in America, by W. Caleb McDaniel (Oxford University Press)
A masterfully researched meditation on reparations based on the remarkable story of a 19th century woman who survived kidnapping and re-enslavement to sue her captor.
Biography
Sontag: Her Life and Work, by Benjamin Moser (Ecco)
An authoritatively constructed work told with pathos and grace, that captures the writer's genius and humanity alongside her addictions, sexual ambiguities and volatile enthusiasms.
Poetry
The Tradition, by Jericho Brown (Copper Canyon Press)
A collection of masterful lyrics that combine delicacy with historical urgency in their loving evocation of bodies vulnerable to hostility and violence.
General Nonfiction
The Undying: Pain, Vulnerability, Mortality, Medicine, Art, Time, Dreams, Data, Exhaustion, Cancer, and Care, by Anne Boyer (Farrar, Straus and Giroux)
An elegant and unforgettable narrative about the brutality of illness and the capitalism of cancer care in America.
The End of the Myth: From the Frontier to the Border Wall in the Mind of America, by Greg Grandin (Metropolitan Books)
A sweeping and beautifully written book that probes the American myth of boundless expansion and provides a compelling context for thinking about the current political moment. (Moved by the Board from the U.S. History category.)
Music
The Central Park Five, by Anthony Davis
Premiered on June 15, 2019 at the Long Beach Opera, a courageous operatic work, marked by powerful vocal writing and sensitive orchestration, that skillfully transforms a notorious example of contemporary injustice into something empathetic and hopeful. Libretto by Richard Wesley.
Fiction
The Nickel Boys, by Colson Whitehead (Doubleday)
A spare and devastating exploration of abuse at a reform school in Jim Crow-era Florida that is ultimately a powerful tale of human perseverance, dignity and redemption.
Special Citation
Ida B. Wells
For her outstanding and courageous reporting on the horrific and vicious violence against African Americans during the era of lynching.
For more information on this year's and all past years' winners and finalists, please visit www.Pulitzer.org.
This announcement marks the 104th year of the Prizes. The Board also announced the election of its two co-chairs: Stephen Engelberg, Editor-in-Chief, ProPublica, and Aminda Marqués Gonzalez, President, Publisher and Executive Editor, Miami Herald. Both Engelberg and Marqués Gonzalez are entering their ninth year as Pulitzer Prize Board members.
The annual awards luncheon, traditionally held at Columbia University in May, has been postponed. Details of a Fall celebratory reception for winners will be announced at a later date.
The Pulitzer Prizes were established by Joseph Pulitzer, a Hungarian-American journalist and newspaper publisher, who left money to Columbia University upon his death in 1911. A portion of his bequest was used to found the School of Journalism in 1912 and to establish the Pulitzer Prizes, which were first awarded in 1917.
The 19-member Pulitzer Board is composed mainly of leading journalists or news executives from media outlets across the U.S., as well as five academics or persons in the arts. The dean of Columbia Journalism School and the administrator of the Prizes are nonvoting members. The chair rotates annually to the most senior member or members. The board is self-perpetuating in the election of members. Voting members may serve three terms of three years each for a total of nine years.
CAMBODIAN ROCK BAND's Francis Jue Wins 2020 Lucille Lortel Award for Outstanding Featured Actor in a Play; Full List of Winners
2020 Drama League Awards Nominees
CAMBODIAN ROCK BAND, HALFWAY BITCHES GO STRAIGHT TO HEAVEN, A STRANGE LOOP, ROMEO & BERNADETTE, THE SECRET LIFE OF BEES and More Nominated for Off Broadway Alliance Awards 
Video Teaser: Cast Recording of Signature Theatre Production of Lauren Yee's CAMBODIAN ROCK BAND, Featuring Francis Jue, Abraham Kim, Jane Lui, Joe Ngo, Courtney Reed and Moses Villarama, To be released on May 8 
David Henry Hwang and Jeanine Tesori's SOFT POWER Receives Five Lucille Lortel Nominations Including Outstanding Musical, Outstanding Lead Actor in a Musical for Francis Jue and Conrad Ricamora, Outstanding Choreography for Sam Pinkleton and Outstanding Scenic Design for Clint Ramos; Full List of Nominations 
SOFT POWER Receives Eleven Drama Desk Nominations, HALFWAY BITCHES GO STRAIGHT TO HEAVEN Receives Eight Nods; Full List of Nominees 
Lia Chang is an actor, a multi-media content producer and co-founder of Bev's Girl Films, making films that foster inclusion and diversity on both sides of the camera. Bev's Girl Films' debut short film, Hide and Seek was a top ten film in the Asian American Film Lab's 2015 72 Hour Shootout Filmmaking Competition, and she received a Best Actress nomination. BGF collaborates with and produces multi-media content for artists, actors, designers, theatrical productions, composers,  musicians and corporations. Lia has appeared in the films Wolf, New Jack City, A Kiss Before Dying, King of New York, Big Trouble in Little China, The Last Dragon, Taxman. She stars in and served as Executive Producer for the short independent films Hide and Seek, Balancing Act, Rom-Com Gone Wrong, Belongingness and When the World was Young. She is also the Executive Producer for The Cactus, The Language Lesson, The Writer and Cream and 2 Shugahs.
All text, graphics, articles & photographs: © 2000-2020 Lia Chang Multimedia. All rights reserved. All materials contained on this site are protected by United States copyright law and may not be reproduced, distributed, transmitted, displayed, published or broadcast without the prior written permission of Lia Chang. You may not alter or remove any trademark, copyright or other notice from copies of the content. For permission, please contact Lia at liachangpr@gmail.com