In MCC Theater's critically acclaimed production of School Girls; Or, the African Mean Girls Play, written by 2017-18 Tow Playwright-in-Residence Jocelyn Bioh, and directed by Tony Award winner Rebecca Taichman, MaameYaa Boafo (LIFT, "An African City") plays Paulina Sarpong, the reigning queen bee at Ghana's most exclusive boarding school who has her sights set on the Miss Universe pageant. But the arrival of Ericka (Nabiyah Be), a new student with undeniable talent and beauty, captures the attention of the pageant recruiter–and Paulina's hive-minded friends. School Girls is a buoyant and biting comedy that explores the universal similarities (and glaring differences) facing teenage girls across the globe.
Ms. Boafo has garnered nominations for a 2018 Lucille Lortel Award for Outstanding Lead Actress, a 2018 Outer Critics Circle Award for Outstanding Actress in a Play and a 2018 Drama League Distinguished Performance Award for her role as Paulina.
Born in Pakistan, Ms. Boafo hails from Ghana, West Africa, and currently resides in New York. When she came to the United States to obtain a double Bachelor degree in Journalism and French at Hood College, she was awarded the Levin Scholarship from Rutgers University where she received her MFA in Acting from the Mason Gross School of the Arts.  She has since gone on to play roles such as Ophelia in Hamlet, the Courtesan in Comedy of Errors and made her off-Broadway debut as Walter Mosley's leading lady in his play LIFT.
Since making her on-screen acting debut in 2012 in the award winning indie film Asa as the title role, Ms. Boafo has gone on to star in other indies and short films including Bus Nut, directed by Akosua Adoma Owusu. Her television credits include "Chicago Med," "Iron Fist," "Madam Secretary," "Blacklist" and "Mysteries of Laura".  Ms. Boafo also leads the cast of "An African City," the international hit web series that is "Africa's answer to Sex & the City" (CNN).
On Sunday, June 3rd, Ms. Boafo will join her School Girls castmates Nabiyah Be, Paige Gilbert, Zainab Jah, Nike Kadri, Abena Mensah-Bonsu, Mirirai Sithole, and Myra Lucretia Taylor to receive the 2018 Drama Desk Ensemble Award at the 63rd Annual Drama Desk Awards at Town Hall in New York. School Girls is also nominated for Outstanding Play, Outstanding Costume Design for a Play for Dede M. Ayite and Outstanding Wig and Hair for Cookie Jordan.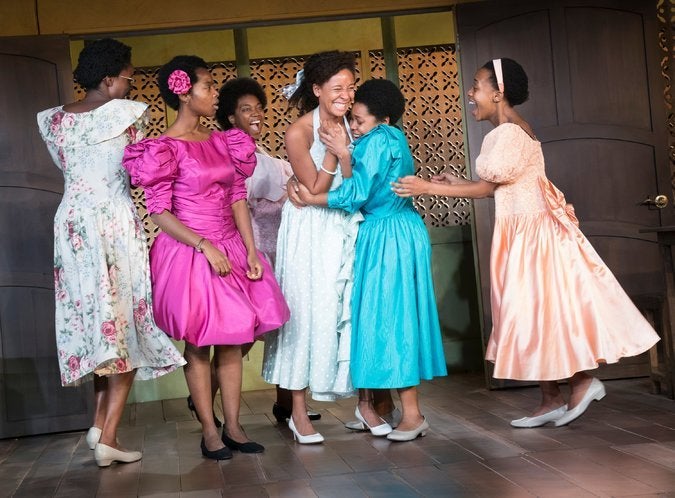 School Girls recently tied for the 2018 Lucille Lortel Award for Outstanding Play, and playwright Jocelyn Bioh received the 2018 Outer Critics Circle John Gassner Award presented for an American play by a new playwright.
KPOP, "School Girls," 'Cost of Living," and "Jesus Hopped the 'A' Train," Take Top Honors at Lortel Awards 
Jocelyn Bioh's "School Girls; Or, The African Mean Girls Play" Receives 2018 Drama Desk Ensemble Award and Lortel, Outer Critics Circle, Drama League and Off Broadway Alliance Nominations 
I caught up with MaameYaa during the frenzy of awards season.
Lia: How long have you been part of the development of School Girls?
MaameYaa: Since the beginning- playwright Jocelyn Bioh called me up about 3 years ago telling me she wrote this play and had me in mind to read for Paulina for a staged reading. From there we had a few more staged readings and workshops, and by the time we were up on our feet, School Girls had gone through over 30 drafts.  It's been such a honor to be a part of this play since its developmental stage.
Lia: Describe your character Paulina.
MaameYaa: I don't want to give way too much so I'll just say that Paulina is a 3 dimensional character whose goal in life is to make her dream come true…by any means necessary.
Lia: What character do you relate to?
MaameYaa: I relate most to Nana. I grew up all over the world and went from one international school to another where I was usually the odd person out in every definition of the word- I relate to how much Nana wanted to fit in.
Lia: What was your reaction when you heard about your 1st nomination?
MaameYaa: I was in LA at the time and with the time difference had just woken up to a bunch of texts – I was just so relieved to be lying down, because they made me so lightheaded lol.
Lia: What does it mean to have your culture represented on stage?
MaameYaa: It means the WORLD to me to see people flock to the theatre to see what happens in Ghanaian boarding school on a New York Stage. I've never been prouder to share my culture with audiences.
Lia: You have been doing a lot of TV. Any favorite experiences?
MaameYaa: Every experience has been special. I've been really lucky to be on sets with such kind TV stars, hilarious directors, and warm hearted crew members.
Lia: What have your best responses post-show been from young audiences?
MaameYaa: Best response: when 2 eight year old girls just came up and hugged me. Second best response when 99% of the audience say, "I wish it was longer- I didn't want it to end- ever".
MCC Theater's production of School Girls; Or, the African Mean Girls Play will launch the Center Theatre Group's 2018-2019 season at the Kirk Douglas Theatre in Los Angeles, CA. The show will begin previews on Sunday, September 2, with an official opening night set for Sunday, September 8. The show is set to run through September 30, 2018. Additional information, including casting, will be announced shortly. Click here for tickets and more information.
The New York limited return of School Girls; Or, the African Mean Girls Play will begin previews at the Lucille Lortel Theatre (121 Christopher Street) on Tuesday, October 16, with an official opening night set for Monday, October 22, 2018. The show is set to run through November 25, 2018.  For tickets and more information, visit www.mcctheater.org.
André De Shields to Receive 2018 Legend of Off Broadway Award; "KPOP," "Dutch Masters," "School Girls; or, The African Mean Girls Play" Score Off-Broadway Alliance Nods 
Outer Critics Circle Award Nominees Announced; "SpongeBob SquarePants," "Pacific Overtures," "Mlima's Tale," "Jesus Hopped the 'A' Train," and "School Girls; Or, the African Mean Girls Play" Among Nominated
2018 Lucille Lortel Award Nominations Announced including KPOP, "Bella: An American Tall Tale," "Mary Jane," "The Lucky Ones," "Pipeline," "School Girls; Or, the African Mean Girls Play" and "Pacific Overtures" 
Click here  for the Lia Chang Articles Archive and here for the Lia Chang Photography Website.
Lia Chang is an actor, a multi-media content producer and co-founder of Bev's Girl Films, making films that foster inclusion and diversity on both sides of the camera. Bev's Girl Films' debut short film, Hide and Seek was a top ten film in the Asian American Film Lab's 2015 72 Hour Shootout Filmmaking Competition, and she received a Best Actress nomination. BGF collaborates with and produces multi-media content for artists, actors, designers, theatrical productions, composers,  musicians and corporations. Lia is also an internationally published and exhibited photographer, a multi-platform journalist, and a publicist. Lia has appeared in the films Wolf, New Jack City, A Kiss Before Dying, King of New York, Big Trouble in Little China, The Last Dragon, Taxman and Hide and Seek. She is profiled in Jade Magazine and Playbill.com.
All text, graphics, articles & photographs: © 2000-2018 Lia Chang Multimedia. All rights reserved. All materials contained on this site are protected by United States copyright law and may not be reproduced, distributed, transmitted, displayed, published or broadcast without the prior written permission of Lia Chang. You may not alter or remove any trademark, copyright or other notice from copies of the content. For permission, please contact Lia at liachangpr@gmail.com
SaveSave
SaveSave
SaveSave
SaveSave
SaveSave
SaveSave