Laura Benanti and Jeremy Shamos will host the 33rd Annual Lucille Lortel Awards on Sunday, May 6, at the NYU Skirball Center.
The 2018 Lucille Lortel Awards, will posthumously elect composer Michael Friedman onto the Playwrights' Sidewalk in front of the Lucille Lortel Theatre. Friedman was a Lucille Lortel Award winner for Bloody Bloody Andrew Jackson. Friedman died September 9, 2017, at the age of 41 following complications due to HIV/AIDS. His other works include This Beautiful City, Saved, The Fortress of Solitude, and Pretty Filthy.
The evening will also honor Tony-winning playwright and performer Eve Ensler (The Vagina Monologues) with a Lifetime Achievement Award, and longstanding Off-Broadway company WP Theater for their Outstanding Body of Work.
Ensler recently performed at Manhattan Theatre Club Off-Broadway in an adaptation of her memoir, In the Body of the World. The monologue play, written and performed by Ensler, details her experiences working with women in the war-torn Democratic Republic of Congo and being diagnosed with uterine cancer.
Outstanding Play
Cost of Living
Produced by Manhattan Theatre Club in association with Williamstown Theatre Festival
Written by Martyna Majok
Miles for Mary
Produced by Playwrights Horizons
Written by Marc Bovino, Joe Curnutte, Michael Dalto, Lila Neugebauer, and Stephanie Wright Thompson
Pipeline
Produced by Lincoln Center Theater
Written by Dominique Morisseau
Dominique Morisseau's PIPELINE at Lincoln Center Theater 
School Girls; Or, the African Mean Girls Play
Produced by MCC Theater
Written by Jocelyn Bioh
MCC's SCHOOL GIRLS; OR, THE AFRICAN MEAN GIRLS PLAY by Jocelyn Bioh at The Lucille Lortel Theatre
Jocelyn Bioh's "School Girls; Or, The African Mean Girls Play" Receives 2018 Drama Desk Ensemble Award and Lortel, Outer Critics Circle, Drama League and Off Broadway Alliance Nominations 
The Treasurer
Produced by Playwrights Horizons
Written by Max Posner
Outstanding Musical
Bella: An American Tall Tale
Produced by Playwrights Horizons
Book, music, and lyrics by Kirsten Childs
Ashley D. Kelley, Paolo Montalban, Kenita R. Miller, Britton Smith, Yurel Echezarreta and More in BELLA: AN AMERICAN TALL TALE at Playwright's Horizons 
Kirsten Childs' BELLA Nominated for Drama League Award, Drama Desk Award, Chita Rivera Award and 6 Lortel Awards 
Desperate Measures
Produced by The York Theatre Company in association with Cecilia Lin and Hu Guo
Book and lyrics by Peter Kellogg, music by David Friedman
Hundred Days
Produced by New York Theatre Workshop
By the Bengsons and Sarah Gancher
Jerry Springer – The Opera
Produced by The New Group
Music and lyrics by Richard Thomas, book and additional lyrics by Stewart Lee and Richard Thomas
KPOP
Produced by Ars Nova in association with Ma-Yi Theater Company and Woodshed Collective
Conceived by Woodshed Collective and Jason Kim, book by Jason Kim, music and lyrics by Helen Park and Max Vernon, immersive design by Woodshed Collective
KPOP's James Seol, Ashley Park, Jason Tam, Vanessa Kai Among 9 2018 Lucille Lortel Nods, including Outstanding Musical 
KPOP by Jason Kim, Helen Park, Max Vernon, and Woodshed Collective and GUN & POWDER by Ross Baum and Angelica Chéri Receive 2018 Richard Rodgers Awards for Musical Theater
Photos: KPOP Performance Benefits Ma-Yi Theater Company
Outstanding Revival
Fucking A
Produced by Signature Theatre
Written by Suzan-Lori Parks
In The Blood
Produced by Signature Theatre
Written by Suzan-Lori Parks
Jesus Hopped The 'A' Train
Produced by Signature Theatre
Written by Stephen Adly Guirgis
The Government Inspector
Produced by Red Bull Theater
Adapted by Jeffrey Hatcher from Revizor by Nikolai Gogol
Torch Song
Produced by Second Stage Theater in association with Richie Jackson
Written by Harvey Fierstein
Outstanding Solo Show
Harry Clarke
Produced by Vineyard Theatre in association with Audible
Written by David Cale, performed by Billy Crudup
Who's Holiday!
Produced by Whoville Theatrical, Scott and Jenny Beck, Jason Shaw, Ken Fakler, Drew Desky/Dane Levens, Darren Bagert
Written by Matthew Lombardo, performed by Lesli Margherita
Outstanding Director
Lileana Blain-Cruz, Pipeline
Michael Greif, The Low Road
Anne Kauffman, Mary Jane
Lila Neugebauer, Miles for Mary
Leigh Silverman, Harry Clarke
Outstanding Choreographer
Camille A. Brown, Bella: An American Tall Tale
Bill Castellino, Desperate Measures
Byron Easley, X: Or, Betty Shabazz v. The Nation
Sonya Tayeh, The Lucky Ones
Jennifer Weber, KPOP
Outstanding Lead Actor in a Play
Sean Carvajal, Jesus Hopped The 'A' Train
Peter Friedman, The Treasurer
Chukwudi Iwuji, The Low Road
Namir Smallwood, Pipeline
Michael Urie, Torch Song
Sean Carvajal, Edi Gathegi, Ricardo Chavira, Stephanie DiMaggio, Erick Betancourt End Extended Run in Stephen Adly Guirgis' JESUS HOPPED THE A TRAIN 
Outstanding Lead Actress in a Play
Quincy Tyler Bernstine, The Amateurs
MaameYaa Boafo, School Girls; Or, the African Mean Girls Play
Carrie Coon, Mary Jane
Cristin Milioti, After the Blast
Karen Pittman, Pipeline
Outstanding Featured Actor in a Play
Marc Bovino, Miles for Mary
Edi Gathegi, Jesus Hopped The 'A' Train
Gregg Mozgala, Cost of Living
Paul Sparks, Edward Albee's At Home at the Zoo: Homelife and The Zoo Story
John Tufts, Pride and Prejudice
Carrie Coon, Liza Colón-Zayas, Danaya Esperanza, Susan Pourfar, Brenda Wehle Set for Amy Herzog's MARY JANE at New York Theatre Workshop
Outstanding Featured Actress in a Play
Vanessa Aspillaga, Amy and the Orphans
Quincy Tyler Bernstine, As You Like It
Liza Colón-Zayas, Mary Jane
Mirirai Sithole, School Girls; Or, the African Mean Girls Play
Katy Sullivan, Cost of Living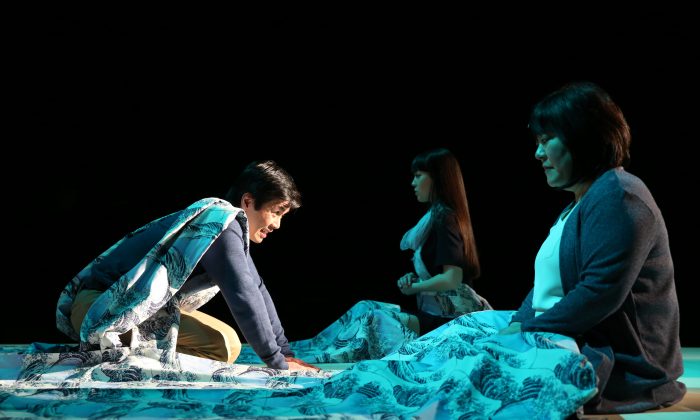 CSC's PACIFIC OVERTURES Featuring George Takei, Ann Harada, Thom Sesma, Orville Mendoza, Steven Eng and More, Ends Extended Run on June 18
Outstanding Lead Actor in a Musical
Damon Daunno, The Lucky Ones
Steven Eng, Pacific Overtures
Terrence Mann, Jerry Springer – The Opera
Wade McCollum, Ernest Shackleton Loves Me
James Seol, KPOP
Chatting with VIETGONE Star James Seol 
Chatting with Steven Eng – 2018 Lucille Lortel Award Nomination for Outstanding Lead Actor in a Musical for "Pacific Overtures"
Outstanding Lead Actress in a Musical
Abigail Bengson, Hundred Days
Ashley D. Kelley, Bella: An American Tall Tale
Julia Knitel, A Letter to Harvey Milk
Lauren Molina, Desperate Measures
Ashley Park, KPOP
Outstanding Featured Actor in a Musical
Sean Patrick Doyle, Jerry Springer – The Opera
Brandon Gill, Bella: An American Tall Tale
Paolo Montalban, Bella: An American Tall Tale
Thom Sesma, Pacific Overtures
Jason Tam, KPOP
Outstanding Featured Actress in a Musical
Vanessa Kai, KPOP
Tiffany Mann, Jerry Springer – The OperaQuincy Tyler Bernstine
Maryann Plunkett, The Lucky Ones
Myra Lucretia Taylor, The Lucky Ones
Adina Verson, The Lucky Ones
Outstanding Scenic Design
Gabriel Hainer Evansohn, KPOP
Anna Fleischle, Hangmen
Laura Jellinek, Mary Jane
Amy Rubin, Miles for Mary
Louisa Thompson, In The Blood
Outstanding Costume Design
Dede M. Ayite, Bella: An American Tall Tale
Dede M. Ayite, School Girls; Or, the African Mean Girls Play
Tricia Barsamian, KPOP
Tilly Grimes, The Government Inspector
Emily Rebholz, The Low Road
Outstanding Lighting Design
Alan C. Edwards, Harry Clarke
Bradley King, The Treasurer
Ben Stanton, The Low Road
Japhy Weideman, Mary Jane
Jeanette Oi-Suk Yew, KPOP
Outstanding Sound Design
Mikhail Fiksel, The Treasurer
Leah Gelpe, Mary Jane
Bray Poor, The Last Match
Bray Poor, Office Hour
Brandon Wolcott, After the Blast
Outstanding Projection Design
Lucy Mackinnon, After the Blast
Alexander V. Nichols, Ernest Shackleton Loves Me
Brad Peterson, The Stone Witch
Hannah Wasileski, Pipeline
Jeanette Oi-Suk Yew, Relevance
Productions with multiple nominations
KPOP (9)
Bella: An American Tall Tale (6)
Mary Jane (6)
The Lucky Ones (5)
Pipeline (5)
Jerry Springer – The Opera (4)
The Low Road (4)
Miles for Mary (4)
School Girls; Or, the African Mean Girls Play (4)
The Treasurer (4)
After the Blast (3)
Cost of Living (3)
Desperate Measures (3)
Harry Clarke (3)
Jesus Hopped The "A" Train (3)
Ernest Shackleton Loves Me (2)
The Government Inspector (2)
Hundred Days (2)
In the Blood (2)
Pacific Overtures (2)
Torch Song (2)
SaveSave
SaveSave
SaveSaveSaveSaveSaveSave
SaveSave
SaveSaveSaveSave
SaveSave
SaveSave
SaveSave
SaveSave
SaveSave
SaveSave
SaveSave
SaveSave
SaveSaveSaveSave