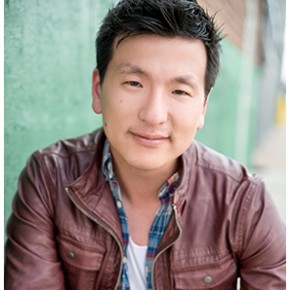 Brian Kim is currently appearing  alongside Kennedy Kanagawa (NAATCO's Falsettoland), Ben Langhorst (Pipeline's Clown Bar & Beardo), Jermaine Golden, Jessie Shelton (Rachel Chavkin's Hadestown at NYTW / Futurity at Soho Rep), Gianna Masi and Beth Griffith in the World Premiere of DINNER WITH GEORGETTE by Obie Award winner Rick Burkhardt (Three Pianos) at Next Door at NYTW through April 7th. Ellie Heyman directs.
DINNER WITH GEORGETTE begins as a farce and evolves into a fantasia on the subject of the closet. Balti and Jaker are gay 20-year-olds enjoying romantic and sexual possibilities on their college campus.
When Jaker asks Balti to pretend to be straight during Jaker's Grandmother's campus visit, a chasm opens and Balti finds himself traveling back in time. As Balti sorts through the national history that binds him to Grandma's homophobia, he meets a yarn-spinning rattlesnake, a Korean-American war child, and the founders of the first gay bar in Las Vegas. When he attempts to return to the comforts of modern-day gay life, he finds that time works differently inside the closet than outside, and his love with Jaker may be irretrievable. Kim plays Cactus Eyes, the son of an immigrant women who befriends Georgette on a military base in Arizona.
Brian Kim is a MN native who currently calls the great city of Brooklyn his home. He has appeared in Les Miserables, Thoroughly Modern Millie, Carousel, Flower Drum Song, and his personal favorite, Hair!  Other workshops include Great Wall, The Music of Time, Enter Laughing, and most recently, Jason Ma's Gold Mountain. As a voiceover artist, he can be heard on Pokemon: Sun and Moon, Regal Academy, MCvs, and more to come in 2018. Through his production company, Misfit Dog, he continues to explore the American-Asian narrative through film and theatre – including the recent short film, The Beach House, currently on the festival circuit.
The production team for Dinner with Georgette includes James Fluhr (set), Mary Ellen Stebbins (lighting), Katja Andreiev (costumes), Russell Maclin (production manager), Krishna Istha (production stage manager), Jenn Haltman (casting director), Rachel Birnbaum (producer), and Bob Kalas (producer).
DINNER WITH GEORGETTE runs through April 7, Wednesday – Saturday at 7:30pm and Sunday at 4pm. Next Door at NYTW is located at 79 East 4th Street, between Second Avenue and Bowery – closest train is the F at Second Avenue. Tickets are $35 general admission. To purchase tickets, call 212-460-5475 or visit www.nytw.org.
Lia Chang is an actor, a multi-media content producer and co-founder of Bev's Girl Films, making films that foster inclusion and diversity on both sides of the camera. Bev's Girl Films' debut short film, Hide and Seek was a top ten film in the Asian American Film Lab's 2015 72 Hour Shootout Filmmaking Competition, and she received a Best Actress nomination. BGF collaborates with and produces multi-media content for artists, actors, designers, theatrical productions, composers,  musicians and corporations. Lia is also an internationally published and exhibited photographer, a multi-platform journalist, and a publicist. Lia has appeared in the films Wolf, New Jack City, A Kiss Before Dying, King of New York, Big Trouble in Little China, The Last Dragon, Taxman and Hide and Seek. She is profiled in Jade Magazine and Playbill.com