American Conservatory Theater (A.C.T.) production of Qui Nguyen's critically acclaimed play, Vietgone, helmed by Jaime Castañeda (Associate Artistic Director at La Jolla Playhouse) and starring Jenelle Chu, Stephen Hu, Cindy Im, James Seol, and Jomar Tagatac, opens tonight at The Strand Theater, 1127 Market Street, SF, CA. Vietgone began previews on February 21st, and is scheduled to run through Sunday, April 22, 2018.
Hailed as a "raucous, immensely moving comedy" by the New York Times, Vietgone is a modern twist on the classic story of boy meets girl. In this irreverent new comedy, three young Vietnamese immigrants leave a war-torn country for an eye-opening road trip across the bewildering and foreign landscape of 1970s America.
A vibrant mash-up of audacious language, pop-culture references, and kick-ass romance, Vietgone is an action-packed road trip that shifts gears instantaneously from hilarity to heart-wrenching drama. Following sold-out houses at Oregon Shakespeare Festival and New York's Manhattan Theatre Club, this sexy, sassy, freewheeling ride, backed by original hip-hop and Motown rhythms, will roll into The Strand in an all-new production this February.
Below is my chat with James Seol, who plays Quang.
Lia: You are appearing in one of my favorite shows. How are rehearsals going?
James: We open tonight!! Previews have been ongoing for about two weeks now; my favorite part of the process. I love working on things during the day, getting notes and then seeing if I can fully incorporate those changes into the evening's performance.
This particular preview period has been pretty eventful. Lots of refining. Lighting adjustments. Quick change practice. Addition of Sex Montage. It's a super challenging show because of all the moving parts that need to align. All that said, it's been a THRILL to work on, and every day the goal is to be as rich, textured and playful as the text itself.
Working on this play is a huge gift. Lately, I've been thinking a lot about the idea that artists need practical experience to get better. Working and learning in an acting class is one thing. But, to actually learn and improve on the job, where the stakes can sometimes be high, is absolutely vital. How does an actor learn to sustain imaginatively, physically and vocally when there's an audience, when there are critics, when the President of Broadway is watching, unless she or he is able to do so in the marathon situation of an actual production? Artists need opportunities to run those marathons over and over. Unfortunately, for many actors of color, we don't get to practice running marathons; we get a 50 yard dash and maybe the occasional 5K. (I could run with this running metaphor for forever.).
Vietgone is a fucking marathon. 5 (plus) meaty, dense, fantastic roles that dare actors to bring EVERYTHING they have to bring the text (spoken and rapped) to life.
Lia:  Who do you play?
James: I play Quang. The motorcycle-riding, weed-smoking, ninja-fighting, helicopter-flying, superhero version of the playwright's dad.
As reference, I've been thinking a lot about my own dad. Like Quang, he was in the military (Korean and American). He's got that Korean, older-generation, stoic exterior AND a soft, warm, loving, gooey, clowny center. Good inspiration for this character.
James: The Four Immigrants was a joy from beginning to end. Our director, Leslie Martinson, and composer/lyricist/book writer/overachiever, Min Kahng, were exceptionally collaborative and inspiring from the start. It's a really earnest, beautiful piece about a little known chunk of American history, so all the more reason to tell the story.
I had done Kimber Lee's Tokyo Fish Story at TheatreWorks the season prior. After the closing performance of Immigrants, I told Leslie that both experiences at TheatreWorks cumulatively taught me how to act. And it's true. Everything I mentioned earlier about getting opportunities to grow in full production settings, I got in Palo Alto. Working on new shows, especially, requires such a specific skill set. Navigating conversations with creative teams, performing while maintaining a dramaturgical eye, trusting gut instincts.
KPOP
KPOP was epic. The folks at Ars Nova, Ma-Yi and Woodshed Collective are forces to be reckoned with. They will do EVERYTHING for their art. I was lucky to be a part of it all.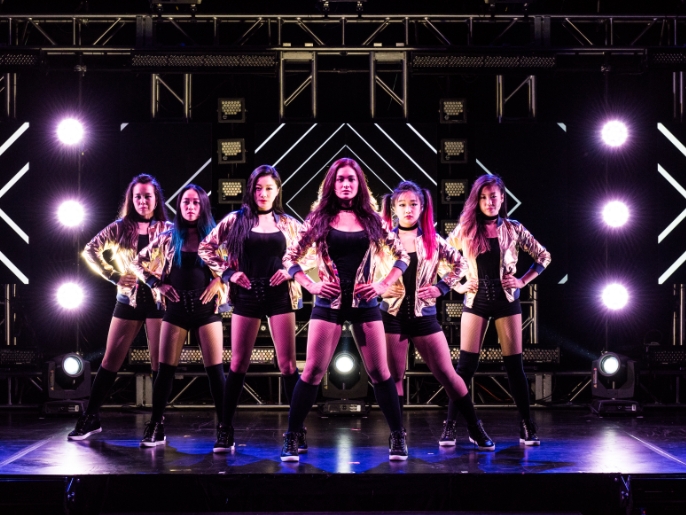 Thankfully, the show attracted a really passionate audience. But it's a testament to the exquisite abilities of everyone involved that it came together in such a meaningful, powerful way.
Oh, and I got to share a dressing room with James Saito and Dave Shih. The equivalent of being in a room with Al Pacino (Saito) and John C. Reilly (Shih).
Also, Tina Fey came; I held it together as best I could.
ALSO, Lin-Manuel Miranda came. It was like meeting the Queen.
Lia: I understand KPOP was a very personal experience. Please elaborate.
James: Around the time I graduated from acting school, there was this one week where I had three appointments (which was an anomaly in the first place; sometimes I went months without an audition.) No joke, all THREE auditions were for "the gay, Asian hairdresser." Something about the repetition of that specific character stereotype strikes me as symptomatic of the time. If you had asked me then if a musical about KPOP, about Koreans and Korean-Americans getting to be human beings on a stage would succeed in NYC, I would have done a spit take.
This show was in so many ways a response to the years of misrepresentation and under-representation. As in, here was an exciting new musical created by and starring a LOT of Asians/Asian-Americans that followed the lives of Asians/Asian-Americans and offered as complete a portrait as any theater piece can.
Lia: What kinds of responses and feedback did you have from your audiences towards the show, the concept and your character?
James: The show developed a following. This is a little silly, but there was fan art. Fan art for an off-Broadway musical! Audiences were, by and large, super enthusiastic. Houses were diverse, responsive and accepting. The music and the immersive nature of the show were huge draws.
My character, Jerry, was… complicated. He dealt with a lot personal challenges related to assimilation and identity. As a result, his perspectives and treatment of some of the other characters could be uncomfortable to witness. Because we were all acting, basically, right up in audience members' faces, the lines of reality/artifice could sometimes get blurred. Audience reactions were instinctive, unguarded, and, therefore, blunt. Some nights, I could feel an entire room of people turning on me. The looks of shock and disgust were hard to ignore (but, of course, I had to pretend not to notice.) I suppose it's a good thing that people would come up to me after the show and exclaim what an asshole I was. I dunno if I ever got used to that.
Lia:  What you do find most challenging about being an actor?
James: I get in my own way a lot. Self-doubt is a consistent challenge. I'm pretty effusive when it comes to the work of my friends; I love witnessing their success. It can be super inspiring and motivating. But offering myself that level of support isn't always so forthcoming. Thankfully, as I've gotten older, I've learned to manage and counterbalance the negative thoughts. Having a solid support network of fellow actors helps. My family has also been really great about providing encouragement.
Also, money. I want more money.
Lia: Are there any other projects that you are involved with this year?
James: Once Vietgone ends, I'll be heading back to NYC. Day-jobbery and auditioning.
About a month ago, the entire original cast and creative team recorded the Four Immigrants. The show was very well-received, and as a result, TheatreWorks Silicon Valley managed to raise the funds for us to assemble and record in Oakland. It was a hectic 48 hours, but I just heard a few of the tracks. They sound great!! I think the release date is sometime in June.
Lia:  Any directors, writers or plays that are on your wish list?
James: I should be more practical and keep an ongoing wish list of names and titles. I do keep a mental tally of work that inspires me. John Doyle's recent Pacific Overtures, at Classic Stage. Ivo Van Hove's The Crucible. Leigh Silverman's staging of Violet.
Hmmm, I recently reread The Glass Menagerie; definitely on my bucket list.
Single tickets (ranging from $25-$90) are available at the A.C.T. Box Office at 415.749.2228 or online at act-sf.org. Ticket prices are subject to change without notice.
The creative team for Vietgone includes Brian Sidney Bembridge (Scenic Designer), Jessie Amoroso (Costume Designer), Wen-Ling Liao (Lighting Designer), Jake Rodriguez (Sound Designer), Chris Lundahl (Projection Designer), Shammy Dee (Original Music), and Natalia Duong (Assistant Director).
Lia Chang is an actor, a multi-media content producer and co-founder of Bev's Girl Films, making films that foster inclusion and diversity on both sides of the camera. Bev's Girl Films' debut short film, Hide and Seek was a top ten film in the Asian American Film Lab's 2015 72 Hour Shootout Filmmaking Competition, and she received a Best Actress nomination. BGF collaborates with and produces multi-media content for artists, actors, designers, theatrical productions, composers,  musicians and corporations. Lia is also an internationally published and exhibited photographer, a multi-platform journalist, and a publicist. Lia has appeared in the films Wolf, New Jack City, A Kiss Before Dying, King of New York, Big Trouble in Little China, The Last Dragon, Taxman and Hide and Seek. She is profiled in Jade Magazine and Playbill.com
SaveSave
SaveSave
SaveSave